Family Owned and operated, in Arcadia, since 1981!
Hall of Fame Baseball Cards is a family owned and operated business. Owner, Bob Newton, started collecting cards at the age of 7 while living in his hometown of Deerfield, Illinois.  He had a love for baseball, even as a child, and would work diligently to save his allowance so that he would be able to purchase baseball cards. Bob says, "Thankfully, my mother never threw ANY of them away and when I became an adult, I decided to start a trading card/mail order business out of my garage in Arcadia, CA." That's how the business got started back in 1981. As the business grew, his wife supported his long time goal of opening a hobby shop, and helped him accomplish that dream. In 1991, Hall of Fame Baseball Cards opened its doors, where we still remain today. This year, we celebrate 35 years as an established business!
What do we sell?
Collectible Sports Cards – All brands including Topps, Bowman, Upper Deck and Panini. As well as all sports including Baseball, Basketball, Football, Hockey too!
Gaming Cards – Yugioh, Pokemon, Magic the Gathering, etc.
Memorabilia – Autographed balls, bats, helmets, photos, etc.
Accessories – For all your collectibles: binders, plastic pages, ball holders, card holders, storage boxes, etc.
Gift Certificates – Available in any denomination and they NEVER expire.
We are also proud to be selected as an Upper Deck Certified Diamond Dealer…

Topps HTA official hobby retailer…

and a member of the Panini Roundtable.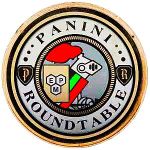 Don't let our store name fool you. We carry a wide variety of cards and memorabilia from all sports….